Winning tip: Good life, Trenta valley, Slovenia
This country is dotted with amazing organic farm stays but we love Pri Plajerju in the Trenta valley. There's something pure and timeless about Slovenia and this farm. It has self-catering apartments, but we sleep in the hayloft – it's incredibly good value. The hay beds are warm and cosy and it's magical after a day walking the Soča trail. The mountain scenery is mind-blowing; you can help feed the animals in the morning, and the home-cooked food is fresh, filling and always served with a smile. It almost makes me want to move to the country.
• Apartments from €70, barn beds €15pp, eko-plajer.com
Jo
MORE SLOVENIA
Limestone and black wine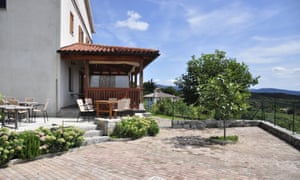 Family-run Francinovi is a gem in the Slovenian tourist-farm tradition. It's in Avber, a hilltop village in Kras, or the Karst area, a limestone plateau close to Trieste. Bojana is a delightful host for whom nothing is too much trouble. She serves delicious home-cooked food accompanied by teran (the local "black" wine) and white wine from her vineyards. The farm is open at weekends and other times by arrangement. It has five simple en suite rooms, a restaurant and a large terrace overlooking the vineyards and meadows.
• Doubles from €40 B&B, ukmar.si
Peter Davey
Car-free Bled, Povsin
The farm is 2km from Lake Bled, which was perfect for us without a car. Our quad room was simple but airy and with all the usual amenities. There is also a communal kitchen. The walk down to Lake Bled was through the fields with a view of the surrounding hills. The breakfast consisted of produce from the farm and was well worth it. The atmosphere was warm and it was an ideal place for young travellers or families.
• Doubles from €64 B&B, povsin-bled.com
Lauren
Flour power, Velenje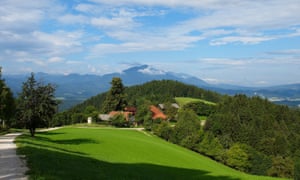 Tourist farm Lešnik is one of the finest farmstays in Slovenia. All its food is homemade from its own produce (even the flour). Great accommodation. Each room is named after – and hand-finished in – a different wood that, again, comes from its own forest. You can even stay in its beehive.
• B&B rates from €23 a night, farmtourism.si
Ken Ducker
ITALY
Wine and honey, Italian Lakes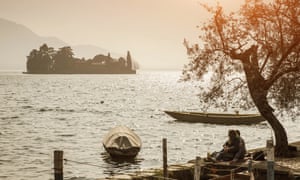 Last year we visited Agriturismo Forest, up one of the hills surrounding Lake Iseo. Iseo has all the charm of the larger north Italian lakes with less of the crowds. We ate a three-course meal, all locally produced (fresh pumpkin-filled pasta, cheeses and cured meats, nettle gnocchi), washed down with the region's Franciacorta wine at €2 a glass. The vineyards are a short walk away and Iseo town is just down the hill. It has a beautiful terrace for dining with panoramic views of the lake and the nearby wetland reserve. We watched the sun setting over the lake from our table.
• Doubles from €80 B&B, agriturismoforest.com
Laura
Thumbs up to Sardinia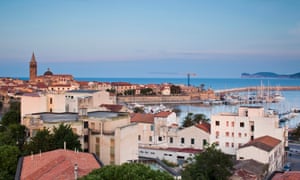 Our fondest memories of staying at Agriturismo Agave, Alghero, were the convivial suppers around the large table, in the company of guests from all over Europe. We all used the common language of a thumbs up to praise the family chef's superb home cooking: amazing value including wine, coffee, and after-dinner mirto. There are 15 guestrooms on this friendly and welcoming working farm, each with shady terrace. Delicious breakfasts were included, too. Our children loved the pool and seeing the pigs, dogs and horses. Historic Alghero and surrounding unspoilt beaches are an easy car drive away.
• Doubles €80 B&B, agriturismoagave.com
Clare
Wooden spoon, Italian Lakes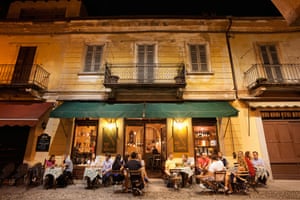 The rooms at Cucchiaio di Legno agriturismo are airy and comfortable, and breakfast in the morning is a treat of homegrown fruit, homemade jam, local yoghurt and eggs, and excellent coffee. It serves a set menu each night, featuring several courses of delicious local cuisine made with their own ingredients. It's near the stunning Lake Orta, an under-visited Italian lake, in my opinion. You can swim in the lake, and in the middle is an island where an ancient basilica now houses a Benedictine monastery. I would have stayed for months if I could.
• Doubles from €73 B&B, ilcucchiaiodilegno.com
Lucy
Fountain of health, Tuscany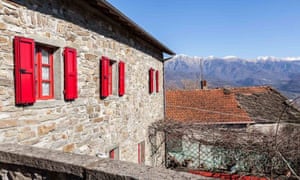 We stayed at Podere Benelli while at a wedding in Pontremoli and it was a delight. On our second night the owner, Paolo, told us how he makes his own cheese, olive oil and lard as we ate a delicious pie he'd just baked using ingredients he'd picked while out tending his sheep that morning. Our room was in the stone farmhouse and had a view of the Apuan Alps. The owners are proud that this has been a family farm for generations and there is a small museum of farm life, with a special mention of their spring and the claims dating back to the 1600s of its health benefits.
• Doubles from €60 B&B, poderebenelli.it
Tim
Among the olive groves, Calabria
This agriturismo is full of character: a 16th-century baronial residence with pool, surrounded by thousands of olive trees at the end of a twisting, narrow road. When I mentioned to our hosts that it was hard to believe this was a working farm, they then took me through a tour of their olive oil production. The spectacular views stretch for miles and are even more special when eating dinner outside and the countryside is speckled with lights from the distant villages. Dinner was delicious Calabrian dishes rounded off with a glass of homemade pomegranate liqueur. Cookery lessons are offered and there is also a self-catering villa.
• Doubles from €80 B&B, lecarolee.it
Rory
Fruit and fairy lights, Sicily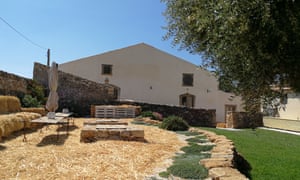 Marianeddi is a busy farm producing almonds, artichokes and citrus fruits but everything else about it is blissfully laid-back. Our room was rustic with stone floors, sandy walls and reclaimed wooden screens, but the bed was fantastically plush. The garden has hay bales and fairy lights, which suits the informal vibe, and as this agriturismo is one of the few places to stay in Vendicari nature reserve, it brings with it access to private beaches, so if you're not dressed for the water, then frankly you're overdressed. It was bliss ending the day with a swordfish steak, washed down with a Campari spritz.
• Doubles from €100 B&B, marianeddi.info
PJ
FRANCE
Donkey business, Limousin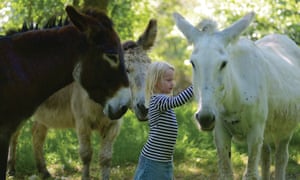 Ânes-de- Vassivière is a donkey farm run by Christophe and Olivier deep in the Creuse department, close to Peyrat-le-Château. Free roaming is encouraged in this far-from-typical farm where families come first and are treated to homemade evening meals and breakfasts made from locally sourced produce. Accommodation ranges from yurts and caravans to traditional gîtes. Highlights, however, are the donkeys and other free-ranging animals. The donkeys can be taken for hikes along well-marked trails for between one and three days, supported with superb packed lunches and B&B accommodation carefully organised by the farm.
• Yurt for two from €59, anes-de-vassiviere.com
Miles Smith
Down on the ferme, Dordogne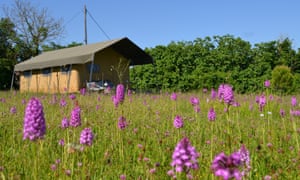 Simply Canvas is a small permaculture farm in Aquitaine, south-west France. Cool, stylish safari tents, a low-impact pool, your own bathroom facilities. Surrounded by delicious sights and smells of herbs and flowers, we sat on the deck of our tent at sunset with our young family and dog, watching the pigs graze freely under cherry trees. Sandra and Santi's story is worth hearing over the communal dinner on the long wooden table overlooking the permaculture fields, but you can cook your own meals using your well-equipped tent kitchen. Sun-dappled, slow-paced, pure and almost innocent feeling family time.
• From €85 B&B (two-night minimum), simplycanvas.eu
Eleanor
Eco-gite and treehouse, Ardèche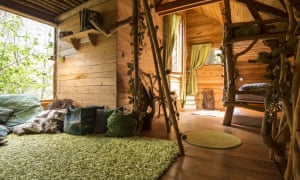 Au Fil de Soi is a converted silk mill on a river high in the mountains above Privas, near the source of the River Loire. The food is all organic, grown on site or locally, with elegant-yet-eco accommodation, including a treehouse and a couple of cottages, plus multi-lingual hosts in Anne and Jerome Legros. They provide spectacular meals of local terroir and engage with visitors, inviting them into their environmentally aware lifestyle.
• Doubles from €60 B&B, aufildesoi07.fr
Jennifer
PORTUGAL
Costa farm, Alentejo
Herdade do Touril is a working farm on the Costa Vicentina in the Alentejo national park. Unfussy and friendly, it offers a huge breakfast spread, bikes aplenty and a pool to jump in when you wake up. Best of all, you can walk to the nearby coastal path and climb down the rope to cool water and pale sand hemmed in by imposing cliffs – and few other people.
• Doubles from €100 B&B, herdadetouril.com
Ben
Seventh heaven, near Sintra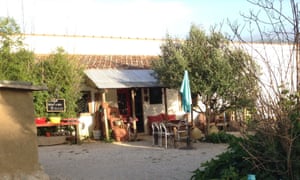 Quinta dos 7 Nomes is a farming cooperative just 15 minutes' walk from a beautiful beach and coastal walks (and dinosaur fossils). There's a bus stop outside for the 15-minute ride to Sintra, with its palace and castle, which are also visible on the hill. There is ecocamping in your own tent, or caravans available through Airbnb. The organic shop has plenty of fresh things from the garden, and there's cafe, treatments and workshops.
• Tent pitch for two €13 a night, caravans €18 a night, quinta7nomes.com
Nina
OTHER COUNTRIES
Favourite things, Austria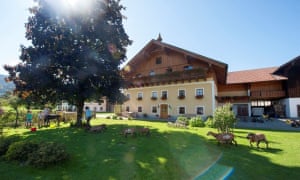 When we lived in Vienna we used to regularly escape the city using farmholidays.com to find accommodation. One of our favourites was in the Austrian Lake district, 3km from the shores of Mondsee. Bachbauer is a flower-draped farmhouse with mountain views and a handful of comfy apartments. We loved feeding the animals, minigolf and dips in the natural swimming pond, and the farm-fresh dairy at breakfast was delicious and organic.
• Apartment for four from €90 a night (three-night minimum), farmholidays.com
Martha Hales
Istrian pearl, Croatia
Agroturizam Nežić, in the village of Zrenj, near the Slovenian border, is great. The accommodation, in pretty stone buildings, is well-appointed but it is the owner and the cuisine that make your stay memorable. We had a fabulous supper: the truffles had been foraged by Paolo and his dogs; the goulash was the best I've had; the wine, produced on the premises, slipped down easily. To round it all off, Paolo played the accordion and sang folk songs to the guests.
• House for four from €270 for three nights, via booking.com
Roberto
Oil the wheels, Crete
Villa Angelos in north-west Crete offers the chance to stay on the working, British-owned Saint Basil Olive Grove. Guests can participate in the annual pruning (April) or harvest (November), and follow the field-to-bottle process of extra virgin olive oil. At a relatively warm 18C-23C in these months, it's a great shoulder-season getaway. Guided walking tours with Berendt, a knowledgeable local guide, will introduce the real Crete and recommended traditional food experiences in nearby villages.
• Four-bedroom villa with pool from £567 a week, rentavillacrete.co.uk
Alison Hewitt
Breakfast with the cows, Iceland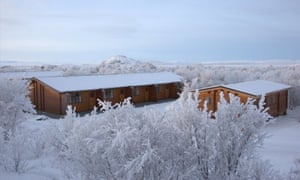 Vogafjos Farm Resort is in a lava landscape on the banks of Lake Mývatn. It's a short hop to the indulgence of hot spring baths at Mývatn Nature Baths, convenient for whale watching, waterfall exploring and not far from the ring road. The rooms are across from the dairy: warm, simple cabins with a terrace to view the northern lights, and we did. Breakfast was the best we had in Iceland– an extensive locally sourced buffet of lava (rye) bread, smoked salmon, fresh milk and cheese, and a window on to the cows for company!
• Doubles from £108 B&B, vogafjosfarmresort.is
Mary
Grape escape, Romania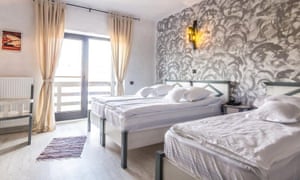 Vinalia, a vineyard at Conacul din Ceptura, around 80km north of Bucharest, has beautiful rooms, local cheese and meats, and wine made and grown on the premises. The owner is happy to do tours and wine-tasting. An amazing place!
• Doubles from €55 B&B, vinaliaceptura.ro
Jo Mattingley
Looking for a holiday with a difference? Browse Guardian Holidays to see a range of fantastic trips
This article contains affiliate links, which means we may earn a small commission if a reader clicks through and makes a purchase. All our journalism is independent and is in no way influenced by any advertiser or commercial initiative. By clicking on an affiliate link, you accept that third-party cookies will be set. More information.